June 2001, Viva Las Vegas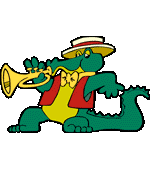 From around the states, along with a few straggler from the UK, Australia and Canada, we invaded The Orleans in Vegas. Unlike past years there was no central meeting place, but that didn't stop us from finding one another and enjoying our 'mudder' ways.
---
Thursday night was mainly the night for meeting up, drinking, gambling... in general hanging out.
Friday started with a small group heading to Hoover Dam, one of the seven man made wonders of the world. While those few were getting educated an even larger group headed off to see Tomb Raider. Friday night approximately twenty four mudders gathered together to go to the Tournament of Kings at the Excalibur Hotel. Just imagine twenty mudders all sitting together rooting for their team, which was Ireland btw. All laughing, drinking, eating without forks or knifes and pounding on the table when their man was competing. (We won't mention that the other four or so sat somewhere else, thus having a different team to cheer for.) Go Ireland! While others went back to the hotel after the show others headed off to the New York New York hotel to ride the Manhattan Express. After that hair thrilling ride the few who could stomach it headed over to the Stratosphere to ride the worlds highest roller coaster, The High Roller. A whooping 112 stories up.
Saturday, the big day. The day everyone came to Vegas for. The OMP. While most were taking it easy after a long night, well morning, of drinking, a few brave souls decided to test their luck in the casino. While others just walked around. About 2pm about twenty or so mudders headed up to the meeting room to find out once again, who is the top UNO Player. After the Uno Tourney we went full swing into the OMP itself. You had Nanook there checking everyone in who passed through the doors, while Sorcha gave out the raffle tickets and finally Tensor there testing out his new camera getting shots of everyone. Last stop on this wonderful entrance was the shirt and hat table. Where Rastafan was peddling the goods. Once everyone was in and settled we went right into the Scavenger Hunt.
Once the hunt was over and the teams tallied we started on the door prizes. This year someone, thoughtfully, brought about 50 pounds of Starbucks coffee. (Just what every mudder needs on those late night exp romps.) We also, once again, raffled off the coveted Admission Marbles from the first OMP.
Once all the door prizes were given out, the admin were presented with a rare surprise. For their dedication to the mud and providing us with what we call 'home', they were each presented with a baseball cap. Each stitched with their names on the back and "3K" and a dragon on the front.
Now that all the prizes were given out onto the big games. Being we were in Las Vegas, we might as well play the part. This year players could take a portion of their exp or quest points and try to win more playing Blackjack. Some players did fairly well with our biggest winner netting almost 8 mil exp. Our biggest quest point winner took home an additional 600 qp's. But while there are winners, there are losers. And trust us, with Tensor, Rastafan and Pistil (not to forget Nooster who stepped in there for a few rounds) dealing, there were plenty of losers.
After the Official OMP there were the un-official parties, like always. There was even a rumor that someone ordered ladies of the night. Of course, we can't substantiate any of that.
Over all it was a great weekend for all. Much to do and see. And plenty of food on those buffets.
---
Pictures:
Special thanks to all of the players and wizards who worked hard to make this a success. Some people have continued to contribute even after the event, by posting their party pictures for online viewing:
Ghostrider's Pics
Aliena's Pics
Gaffman's Pics
Eriond's Pics
Chuckie's Pics
If you have any pics or stories that you would like to submit, please mud mail Vryce.